Joe Sectzer Welcomes You...
Perhaps one of the greatest financial challenges you will face in your lifetime is preparing adequately for retirement.
We will help you create a plan that will assess your current financial situation, determine the retirement lifestyle for your future, review the many options available, and put solutions in place to help ensure you achieve the retirement of your dreams.
Besides providing an income, this solution has to be flexible enough to protect your assets from the six risks typically associated with retirement which are Longevity, Market Volatility, Inflation and Taxes, Health Care Costs, Long-Term Care Needs, and Leaving a Legacy.
Your path to financial security starts with a comprehensive plan that outlines a clear path to achieving success. I can help you create a plan based on your values that addresses your dreams for the future.
---
Focus on Retirement
It's never too late to start saving.
We're living longer than ever—and that means retirement will last longer as well. To help ensure you have the lifestyle you want in the future, it's important to develop a sound retirement plan today to make the most of your savings for tomorrow.
Joe Sectzer works with his clients in every phase of retirement planning:
---
Northwestern Mutual is forging ahead with a new state-of-the-art process for retirement planning
Northwestern Mutual's innovative and patent-pending retirement income planning process is designed to help you develop and implement a complete, customized retirement plan that will help to optimize your income and manage your risk throughout your life.
Click here to learn more.
---
Social Security Won't Be Enough: 6 Reasons to Consider an Income Annuity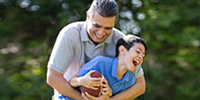 Learn how you may be able to save less to meet your retirement income goals, keep up with inflation, and create guaranteed retirement income that never runs out.
---
Succession/Estate Planning
You work your whole life to build your practice, career or business. This should have enabled you to be financially independent but planning continues to be critical. At this stage, you know full well that nothing happens by chance.
You should have control over what should happen to your business or professional practice. Should it be sold or should it be transferred to an active child? If so, how? If not, why not?
You need a solution that remains flexible enough to allow you to
Maintain maximum control and enjoyment of your assets during life,
Maintain financial independence and 3. achieve smooth distribution of those assets at death to protect your loved ones from themselves as well as others.
With a focused expertise on the business owner, Joe Sectzer can provide guidance for any stage of your business:
We understand that Estate Planning is a very personal process that involves both basic and advanced tools.
The laws on estate taxes are constantly changing so having a plan is critical.
The Northwestern Mutual Difference
We make plans for people, not just money. So no matter your goals, we have access to top rated products and services to help you meet each one.
Best Life Insurance Company ranked by NerdWallet, 2019 to 20201
AAA, Aaa, and AA+ the highest financial strength ratings of any life insurer from all four major rating agencies2
Top 10 U.S. Independent Investment Broker-Dealers3
1©2017-2020 and TM, NerdWallet, Inc. All Rights Reserved.

2Northwestern Mutual continues to have the highest financial strength ratings awarded to any U.S. life insurer by all four of the major rating agencies: A.M. Best Company, A++ (highest), April 2020; Fitch Ratings, AAA (highest), August 2020; Moody's Investors Service, Aaa (highest), December 2020; S&P Global Ratings, AA+ (second highest), June 2020. Third-party ratings are subject to change. Ratings are for The Northwestern Mutual Life Insurance Company and Northwestern Long Term Care Insurance Company.

3Measured by 2020 total revenues. Ranking for Northwestern Mutual Investment Services, LLC. Sources: Financial Advisor magazine and Investment News, April 2021.