My Team
When you become Joe Sectzer's client, you have placed your trust in an individual who will work dilligently to help make your vision a reality. He honors that trust with the help of his expert support staff. Together, they make a strong commitment to customer service.
If at any time you have a question, concern or need, please let them know.
---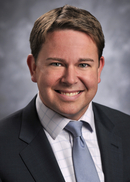 Financial Advisor
(262) 255-1970 ext 210

Mark began his financial services career in 2000 working for a research firm which provided investment research and advice to over 90 of the top 100 US investment management companies. After a successful decade in New York, his wife Rebekah and their two children decided to relocate to the Greater Milwaukee area where Rebekah spent her formative years.
Mark's attraction to NM began as a client. The company's reputation as well as its wholistic planning approach was a unique combination that helped Mark and his young family identify, visualize and prioritize their financial goals, a practice he takes pride in sharing with his clients each day.
---